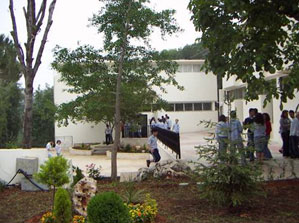 Father Ronald Roberts arrived for the first time to Lebanon in 1942 as a chaplain in the British Army. In 1959, he came back to establish a charitable organization and to witness the most beautiful Christian virtues in his life through his activities.
After seven years of efforts, he started the institution known today as "Father Roberts Institute for Young Deaf".
Father Roberts passed away on the 3rd of April 1983. One year prior to his death, the institute was bequeathed to the nuns of the Basilians Chouerites Order to ensure the good continuity of his charitable task.
Since then, the institute was modernized, enlarged and it diversified its educational and vocational activities.
1984
Complete restoration of the buildings
1985
Audiometric department restored and reequipped in 2001
1992
New technical building, sewing workshop.
1992
Early education system.
1998
"La Joconde" cake-shop was built and equipped
2000
Sports ground.
2001
New building for boarding students
2004
New building for preschool classes
2006
Restoration of the boarding girls building
Restoration of outdoor courts
2008
Restoration of the theater.
Installation of a computer system and Internet
2012
Restoration of the school
2013
Building and transfer pastry
Today, the institution welcomes an average of 110 students (boarder and day pupils) divided up into three branches:
• Early education
• Specialized education and training
• Professional training.